Reconnecting with My Culture
11/28/2022
Tara Troxel on embracing her Native American heritage as a teacher
Difference has always been a part of Tara Troxel's life. She was adopted as an infant in Minot, North Dakota and her parents made every effort to make her feel special and loved.  However, as she grew older, she wanted to learn more about her heritage. You see, Tara was a Native American girl piecing together parts of a cultural identity she'd never had the chance to know.
"I always knew that I wanted to reconnect with my culture, and maybe my family…as I got older, it felt like there was a part of me that was missing. So I needed to be brave and speak up and dive deeper into that."
Native American and Indigenous culture is complex and rich. However, when most children are taught about it in school, it's often reduced to stereotypes or taught as if the people no longer exist. In honor of Native American Heritage Month, I spoke with Tara, an elementary music teacher in Hawley, MN, about her experiences as an adopted child and coming to terms with her Native American culture.
She shares her journey as she explores her past, her experiences within education as a student and educator, and how she tries to bring her heritage and culture into her classroom. It has been lightly edited for clarity and brevity.
Childhood:  Adoption Awareness
"Growing up, I was always in the know about being adopted, and we had a book we would read that was like, 'You're special because you're adopted". That was a big help in understanding that, yeah, I got to pick my parents and, you know, some kids didn't. It is a special situation, and love doesn't always come from blood. But growing up, [my parents] weren't given any tools, there were no systems in place to teach me about my Native culture. For kids that are adopted out of a reservation, there is no guarantee that they will ever know their culture, which is sad. Growing up, we acknowledged that I was Native American, but that was about it. I was given dolls that looked like Native girls and women, but I had no clue what they meant.
As a kid, I always knew I wanted to reconnect with my culture and maybe my family someday. At the time, though, I was just doing kid stuff and growing up and hanging out with friends. As I got older, it felt like a part of me was missing, so I needed to be brave, speak up, and dive deeper into that.
My school was mostly a white, Caucasian, Norwegian, and German population. At some points, I was the only person of color in the room. The only time that I can remember someone asking about me or talking about Native Americans was when we were reading a book and the teacher was like, 'Tara, you Native American?' and I said, 'I am,' and that's about it. 
We didn't have an Indian Education Program, as some schools now have. It was something that was missing from my childhood that I didn't really know about until I was older, in college, and actually getting to be a teacher."
College Experience
"I went to college at North Dakota State University in Fargo, North Dakota, where I played in the marching band. During my junior year, I was the drum major. There were maybe one or two other Natives in the marching band from different tribes. So, there was still a little diversity here and there in college. But I wasn't a part of any Native American student group on campus.
I really felt most connected to my Native culture when I worked at Camp Metigoshe, a bible camp in the Turtle Mountains. They have a program for the Ojibwe kids from the Turtle Mountain Indian Reservation, and they would have elders come to the camp. I got to speak with them and learn some of the things that their tribe did. I learned that, although the elders were from a different tribe, a lot of tribes do some things similarly."
Seeking out My culture
"My rights were relinquished from the Hidatsa tribe when I was adopted, so I'm not an enrolled member yet. To apply for membership as an adult, you need to have enrollment papers, proof that you are Native, and your family tree. It's a difficult process because some people don't have access to that and to their family lines.
During my first year of teaching, I was back in Minot. I wasn't a kid anymore. I wasn't a college student. I was a young professional working in the school district in Minot, and I had more time. As I was reflecting on my childhood, I realized that this missing piece is actually a big part of me.
I was scared and nervous to bring it up to my family because I didn't want them to feel like I didn't love them anymore. I was going to go find my culture; it was like, 'I need to do this for me. I need to do this for myself so that I can feel like a whole person.'
I connected with a mentor from the Mandan Hidatsa Arikara Tribal Nation; she's like a holistic health coach. I booked a session with her, and we started a friendship that has continued through today. She led me in the right direction to find books that I should read and things that I could bring into my daily routines to be more intentional about discovering who I am."
Deciding To Become A Teacher
"In middle school, I was influenced by one of my music teachers. She said, 'You know, I think you would be a good music teacher.' I took that to heart and thought, 'You're right, I should be a music teacher.' And so that's what I did. I've always liked hanging out with kids, and it's fun being a kid and learning new things while having that love of music too. Being able to share that and introduce musical concepts and ideas to these kids for the first time is fun, and I'm glad that I get to share that with them. 
One of my favorite parts of teaching is just experiencing music with my students. If we're playing a game, I like being able to sing and be goofy or play instruments with them, and they're really into it.  Or maybe they're struggling, and I can show them a different way that could help them out; just having fun and working through some of the hard parts of music because not all things about music come easily. It's something that you need to work at. You're teaching them that you need to have grace for yourself and that you can make mistakes, and by making mistakes, that's how we get better. So just sharing their excitement is one of my favorite things."
Challenges of teaching
There are a few difficult things about being a teacher. I think we know that. One of the most recent things that concerns me is the attempts to ban 'critical race theory.' We need to be having conversations about why our country is the way it is—and based on history and facts. But there are some states that just want to stop that. That's really hard for me because it's so personal.
Music came from Indigenous people, you know, with their flutes and their drums. Some kids ask, 'Why do we only learn about old white guys in music?' And it's a real question. I'm like, 'Sorry, I can't answer that for you. You have to talk to your parents.' That's really hard. Because history should be learned and taught in the fullest form of the truth, even if it's hard. So that is something that's really difficult for me."
Bringing Native American Culture into the Classroom
"I brought in a drum group to perform for the school, and I invited them to wear their regalia and dance.  When the day came, we invited everyone to dance out on the floor. And that's what it's about. That's what music's about is bringing people together, no matter what color you are or where you come from. But being able to dance and celebrate life together is what it's about.
I like to share my story, so the kids know where I'm coming from.  I'll show them pictures and a map of where I'm from in the area of North Dakota and I have a Native flute that I bring in and play for them.  I also have some things like sage and a seashell or feathers that I would bring in and show them so that they could experience that. Because otherwise, I don't know if they would experience anything Native, outside of music. And you know, I'm the resident Native American there. That was another thing growing up, I'd never really had a teacher of color, or a teacher that looked like me, which was tough. You also never really saw Natives represented in the media at all.
Now I have 350 plus students. So out of them, maybe like six or seven are Native.  I know that I'm making a difference when I'm speaking about my culture with them, and they feel represented, and I wish that was something that I had growing up."
The Importance of Powwows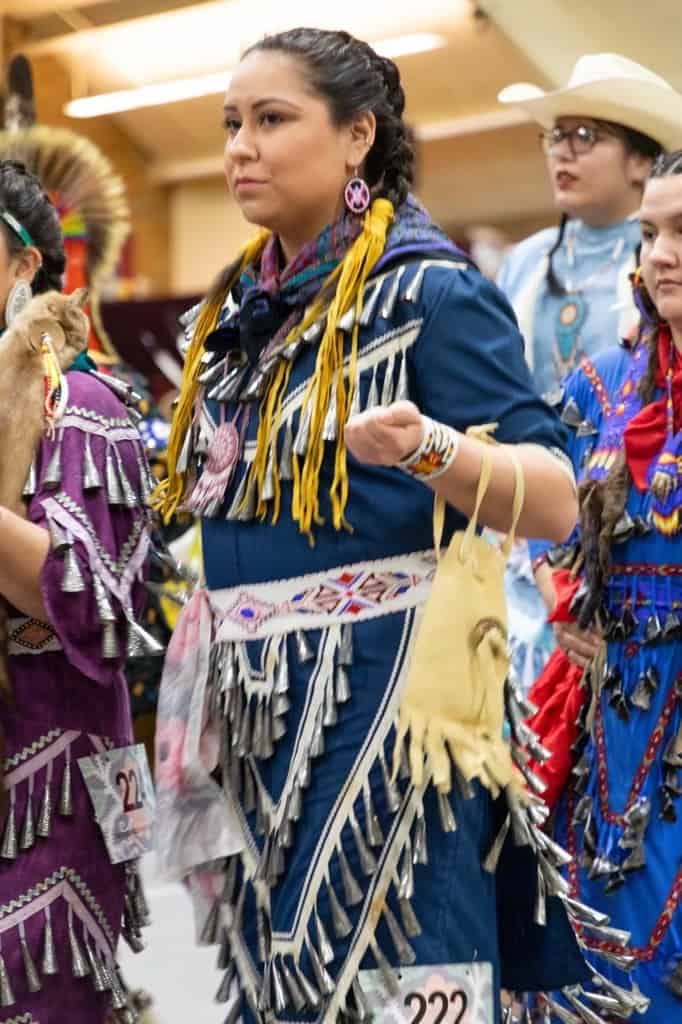 A Powwow is a celebration of culture and dance, there is singing, there's food, and there are vendors. It's a really big event. Sometimes there are competitions and honor songs. For example, there would be a song that is specifically for the veterans, so if you're a veteran, you come out and dance, and we'll honor you. Or there are different categories of dancing for men and women, and they're divided up by age groups, too. But there are also intertribal dances, and intertribal is really anyone… you can be white, you can be Mexican, you can be Asian. Intertribal means all tribes of the world. That's when we come together and dance. Some powwows are held in memory or honor of someone, so those can be very special events too. Most of the time, powwows are held outside, and usually, every tribe or reservation has its own powwow grounds that they use.
First powwow experience
"When I went to my first powwow, it was beautiful. It was something that I've always wanted to do. I had seen pictures and videos of people in powwows, but actually getting to experience it was…it was life-changing.
One of my friends that worked at the bible camp, she and her family are Ojibwe and Anishinaabe. She invited me to dance with them at this powwow at Concordia College in Moorhead. Their family shared their regalia with me, so I wore my friend's mom's old jingle dress, moccasins, and some of their beadwork. Her older sister braided my hair, and the grandma tied my moccasins together.
When you're dancing it's almost like something comes over you. It's like you're dancing for your ancestors who couldn't or weren't allowed to dance when their culture was stripped away from them. Something that's always set up powwows is that we're here to dance for those that couldn't, and remember them and honor them. It was a big healing experience for me, healing from the past and not being able to do it beforehand. It was an introduction to how beautiful the culture is and how the community can be so welcoming.  I hope in some of my spare time to make my own regalia to be ready for this upcoming powwow season. I think that would be really good for me, and I have a lot to learn."
Shifting Mindsets
"I wish people knew that Indigenous people and Native Americans, Indians, Aboriginal, whatever you want to call the First Nations, that we're still here, that we are a contemporary group of people.
The past does matter and still affects our people today with ancestral trauma, but beautiful celebrations and remembering also come from that hurtful past. We're still here, and we're still very much an alive and living culture."