Donate
Where it all Started
Louisiana became the flagship site for Leading Educators' original teacher leadership development program in 2008.
Since then, our model has evolved to provide customized, instructional improvement support and custom professional learning design to a network of single- and multi-site charter management organizations (CMOs). Leading Educators is uniquely prepared to support state-wide efforts to implement Tier 1 curricula and aligned collaborative planning time. Using an inquiry-based model, LE supports instructional leaders to plan and facilitate weekly or biweekly collaborative planning in schools to expand opportunity for students.
See An Example
George Werres
Lenna Assaf
Kelsey McLachlan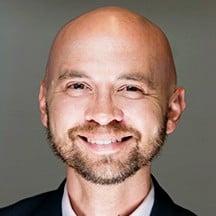 George Werres
Math Instructional Leadership Coach
About George Werres
George Werres is an instructional leadership coach for educators in our Louisiana partnerships.

Formerly a 2012 Leading Educators Fellow in New Orleans, George has been an educator for 14 years. He worked his way from classroom teacher, to team leader, to Director of Curriculum and Instruction at Harriet Tubman Charter School in New Orleans, and most recently was a Director of Teacher Leadership Development at Teach for America. He is excited to continue to push for equity in education at Leading Educators.

George is originally from Greenwood, IN, and he has called New Orleans home since 2010. He graduated from Indiana University with a B.S. in Psychology and a Master's Degree in Education. In his free time, he enjoys playing strategy games, kayaking on Bayou St. John, and playing kickball with the Stonewall Sports League.
Lenna Assaf
Louisiana Program Manager
About Lenna Assaf
Lenna is an operations and project management specialist who strives to ensure each member of her team has what they need to be successful. She leads program event execution and serves as the interface between program staff and leaders in Louisiana.

Previously, Lenna served as Program Manager for YouthForce NOLA where she led the operations and logistics for an internship program for rising high school seniors focused on career-readiness. Before that, she served as the Dean of Enrichment at Akili Academy of New Orleans where she led the vision and daily execution of the school's enrichment classes.

Lenna holds a B.A. in World Arts and Cultures from the University of California, Los Angeles, with minors in Education and LGBT Studies. She lives in New Orleans, LA and spends her free time being creative in the kitchen, crafting costumes for Mardi Gras, and sharing New Orleans culture with all of her friends and family who regularly visit.
Students deserve what we expect for ourselves, our friends, and our families: the best educational experiences possible.
Load more
Kelsey McLachlan
Director of Coaching & Content
About Kelsey McLachlan
Kelsey is a coach and educator who is driven by her passion for making schools equitable and exceptional for every student. She works with schools in Louisiana to advance educational equity through leadership coaching aimed at optimizing rigorous classroom instruction.

Kelsey's career in education began as a teacher in Chicago Public Schools. After moving back to New Orleans, Kelsey worked for Teach for America coaching grade 3-8 teachers in all subjects. In 2011, Kelsey became the Founding Assistant Principal at KIPP Leadership Primary and remained there until the school was fully founded.

Kelsey holds an M.S. in Education from Northwestern University, a B.A. in Theater from Tulane University, and a High School Drama degree from the University of North Carolina School of the Arts. Born in North Carolina, Kelsey now calls the charming city of New Orleans home and gets to enjoy the wonders of it with her husband and two amazing kids.
"I watch what I do to see what I really believe" - Sister Helen Prejean
Load more