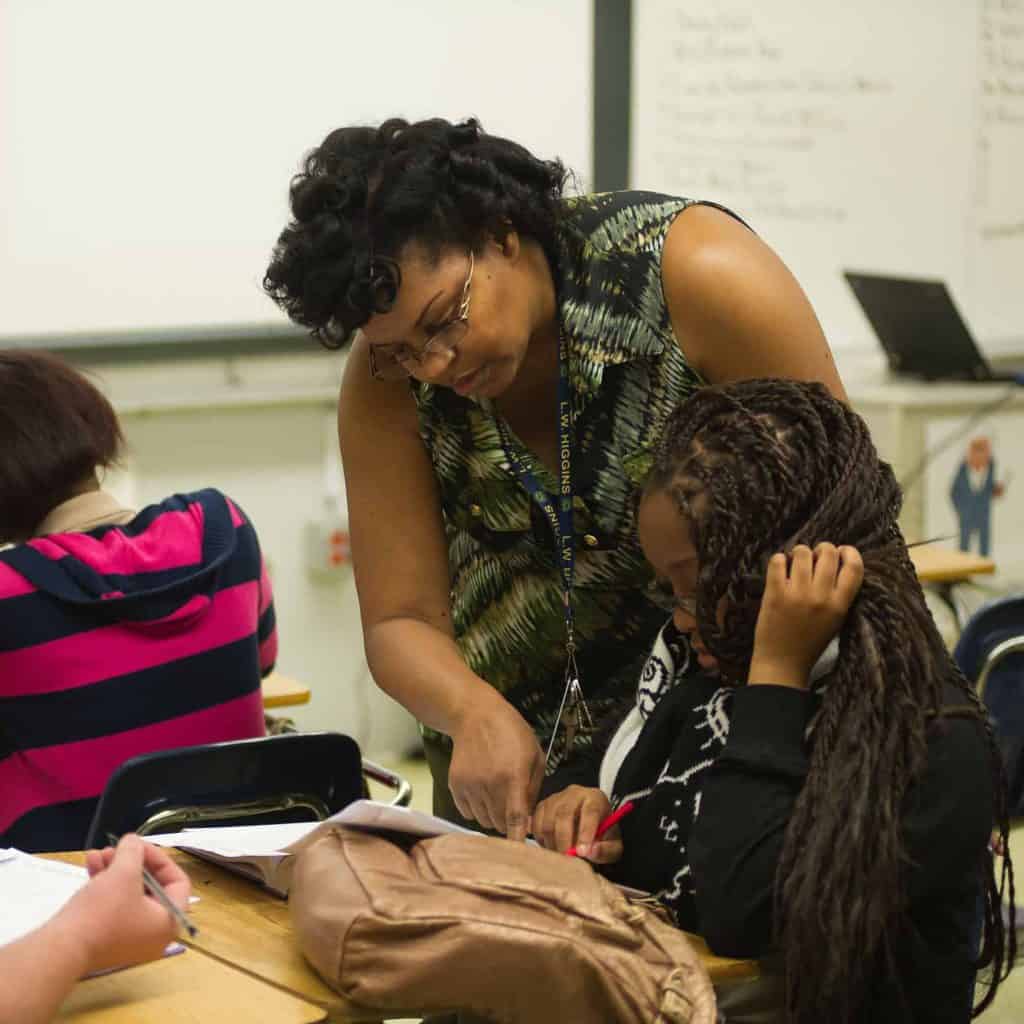 A Classroom Without a Woman?
03/10/2017
Every child deserves a high quality education. We believe that through investments in teacher leadership based on rigorous content, anti-bias education and a strong culture of learning, we can create equitable schools that yield students who are college and career ready.
Central to preparing young people for successful lives and careers is the role of the teacher. Knowing how critical teachers are to our society and to the life prospects of our students, we believe it is important to take time to recognize the historical and current role of women in cultivating and leading the future of our country. Across the world earlier this week, communities recognized International Women's Day and participated in A Day Without A Woman – a movement encouraging women and their allies to mark the day by uniting in economic protest, wearing red, refraining from making purchases (except from small, minority or women-owned businesses) and in some cases, staying home from their jobs. Organizers sought to draw attention to the essential role of women in the workforce, as well as important policies such as equal pay and paid family leave, inciting global grassroots gains towards justice and human rights.
Teaching, like nursing, social work, and many service industries, is largely a female-dominated profession. According to 2012 statistics, nearly 76% of all teachers in this country are female; however, it is worth noting that women are drastically underrepresented in leadership roles – occupying a mere 27% of district superintendent slots.
Many of these teachers – like women across the country and across the globe – marked "A Day Without A Woman" by staying out of schools and classrooms. Some criticism was leveled against the observance, as some school districts closed in anticipation of insufficient staff to cover such significant absences. This raises a tension that is particularly relevant to our work. Leading Educators partners with some of the most underserved, high-risk student populations, and we are acutely aware of the loss of valuable learning time. We also believe that students learn a great deal by watching how adults in their lives model the values they espouse.
At Leading Educators, equity is among our core values. We invest our energies in fighting systemic injustice through community engagement. With a staff that is nearly two-thirds female, the long- and short-term impact of "A Day Without a Woman" is at the forefront of our minds. In a letter to our staff, CEO Jonas Chartock said, "Whether [Leading Educators' employees] should choose to take the day off in protest, wear red, or abstain altogether, we recognize that we would not be the organization we are without the labor and leadership of women."
On International Women's Day and all days, Leading Educators recognizes and appreciates the essential labor and leadership of women, and salutes their essential role in building the leaders of tomorrow.