Donate
Tulsa Public Schools
Teachers Empowering Teachers
After adopting a new curriculum, TPS partnered with Leading Educators to support teachers in not just learning the curriculum, but mastering it. Rather than lead professional development in auditoriums and gyms, Leading Educators created a system in which teacher leaders would guide their peers through learning sessions. The result? Empowered teachers who empower other teachers.
Early Successes
Taking Coherence Across the Chasm is a case study that unpacks Tulsa Public Schools' innovative partnership with Leading Educators to strengthen teaching. The case study highlights the power of a supported teacher force. It also makes a strong case for the impact visionary districts like TPS can have by aligning the resources they have with the support educators need.
Download the Case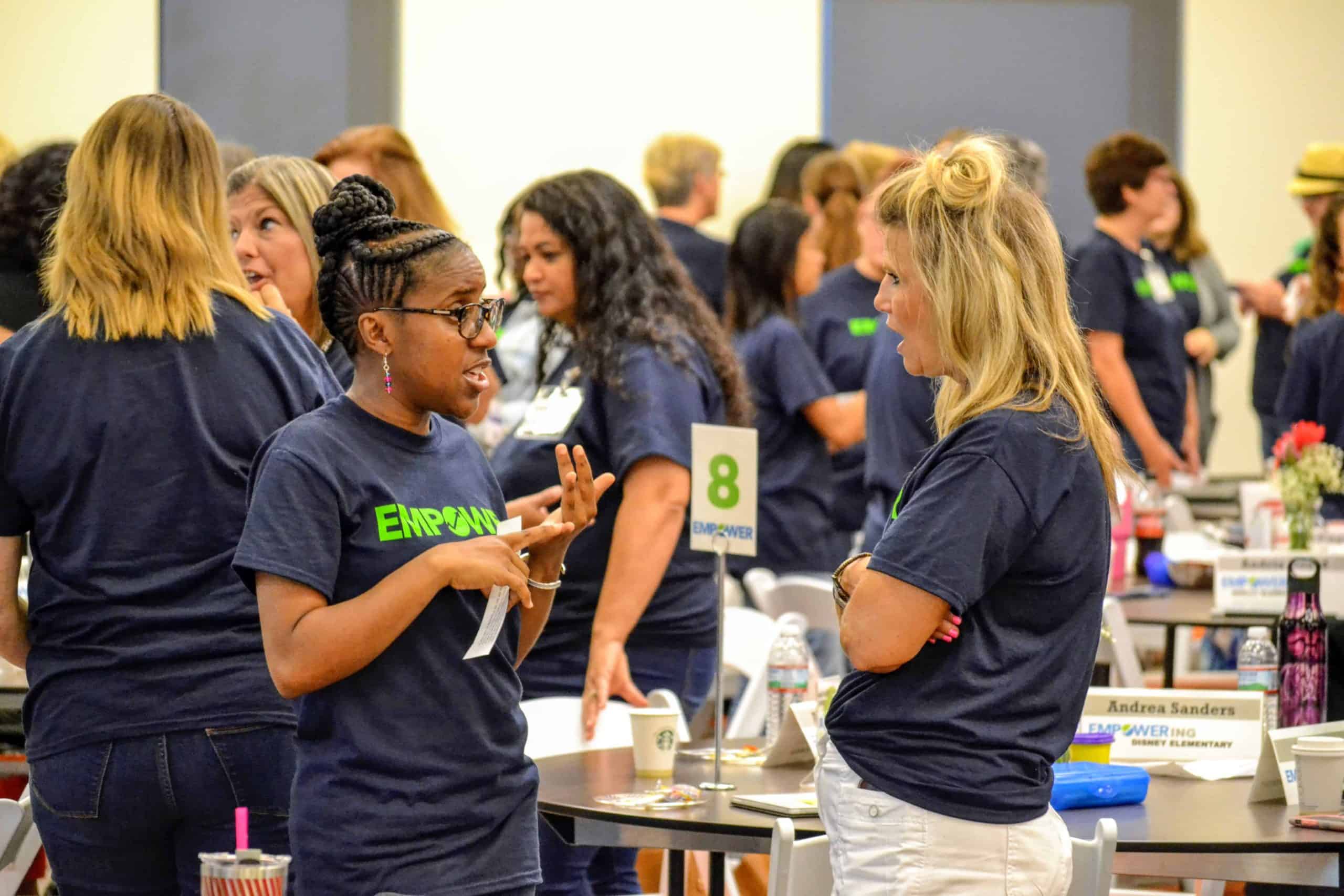 Timeline
Leading Educators partnered with Tulsa Public Schools in 2017, a pivotal year as the district committed to a new level of support for teachers.
2014: The state of Oklahoma repeals Common Core
After vigorous debate, the state of Oklahoma repealed the Common Core State Standards the same year schools were set to begin using the standards. The decision created confusion around instruction and materials. At the same time, TPS learned of weaknesses in their materials – the district was at a tipping point.
2016: TPS adopts a new curriculum
Following the recommendation of a diverse committee of educators and parents, TPS adopted the CKLA curriculum for ELA in grades K-5. However, adopting a brand new curriculum isn't as simple as buying new textbooks. Schedules needed to be reorganized, teacher learning programs needed to be designed, and coaching needed to be provided. District leaders realized they needed help to make the new curriculum a success.
2017: A network of support is formed
TPS reached out to Leading Educators to join a network of support partners dedicated to boosting excellent teaching across the district. Starting with a set of pilot schools, Leading Educators began working with Tulsa teacher leaders to decode the new curriculum and with district staff to ensure there was people power dedicated to the long-term support of teacher learning.
2018: Learning tailored for Tulsa teachers
To empower teachers to take the lead in their own learning, Leading Educators designed a teacher learning system specific to the curriculum used in class. In "content cycles," teacher leaders facilitated group learning sessions around upcoming parts of the curriculum. Teachers then had opportunities to plan and practice lessons together before delivering them. Finally, teachers would review student work together to measure progress, and the cycle would begin again with a new section of curriculum.
Today
The number of teachers who engage in content cycles with their peers continues to grow. The conditions that are essential for teacher learning to flourish are in place, paving the way for even greater effects as the partnership continues to 2022.
Takeaways
Instructional systems that provide standards-aligned teaching and learning, high-quality materials, content-aligned professional learning, and supporting resources work for students.
Many districts like TPS are ready to make impactful instructional shifts today.
The scale of systemic change feels riskier than incremental change, so support organizations and funders play a critical role in moving systems toward effective professional learning.
For professional learning to achieve changes in teaching, it has to address both content knowledge and equitable expectations.