Donate
Equity Fellowship for Greater Grand Rapids
Equity can't wait.
Despite the incredible diversity of our students in West Michigan, few students of color ever have teachers who share their racial or ethnic background. Outcomes for majorities of students who identify as Black, Latinx, multiracial, and recent immigrants also fall short of grade level expectations.
We as educators have an urgent responsibility to grow in ways that give all students fair opportunities to succeed. That's where our new Equity Fellowship for Greater Grand Rapids comes in.
Why Join the Equity Fellowship? Ask Kelly.
Kelly Compher, 4th grade teacher at North Godwin Elementary School in Grand Rapids, Michigan, is working for equity in school. Here's what she thinks about the power of working together toward better learning for all students.
About the Fellowship
Our best opportunity to address inequity head-on is by developing ourselves as teachers who can balance rigorous academics, well-being, anti-racism and cultural responsiveness. We must grow the opportunities for leadership and advancement available to educators of color. We must also ensure that the burden of remaking an inequitable education system does not fall on the shoulders of educators of color alone.
The Equity Fellowship for Greater Grand Rapids from Leading Educators is a new kind of professional learning that will support 90 Kent ISD teachers to harness their passion for educational opportunity and grow as leaders for equity.
Launched in 2011, Leading Educators is a national nonprofit that supports school systems to eradicate racial inequities in instruction and student outcomes by transforming teaching practice, leadership, and conditions at scale. With a specialty for curriculum-based professional learning, Leading Educators guides teachers and leaders at all levels to build capacity for standards-aligned teaching where it matters most: close to the classroom.
Guiding Principles
We're working to build a network of educators who are ready to take their practice to the next level. This fellowship has been designed in community with a diverse group of local leaders to ensure it responds to what students in West Michigan need most. 
As an Equity Fellow, you will:

Honor

the strengths of students' identities
Interrogate

your own mindsets and beliefs about racial equity
Create

more equitable schools and classrooms
Equity Pathways
Creating inclusive communities and classrooms starts with the internal work of one's own story and identity. As a participant, you will engage in both the internal and external work needed to create spaces where students feel safe, seen, challenged, and affirmed as people, community members, and learners.
Equity Fellows will participate in an equity-specific learning pathway, plus one of three content-specific tracks: Math, K-2 ELA, or 3-12 ELA.
Math
Building baseline math knowledge while understanding the impact of identity in mathematics. Use knowledge to continue cultivating inclusive math learning environments where students feel seen and supported within mathematics.
K-2 ELA
A focus on the progressions and core components of aligned Foundational Skills instruction and why these are critical to equitable instruction.
3-12 ELA
Disrupting the Canon and Empowering Student Voice 
With each lesson or unit plan, teachers should ask, How does our curriculum and instruction help us understand power, equity, and anti-oppression?
Activities
Equity Fellows will take part in a range of powerful learning structures.
Whole Group Learning
Four days of summer learning (two in June and two in August) focusing on both equity and content plus three equity workshops spaced across the school year.
Asynchronous Learning
Content learning shared virtually, followed by live discussion in content-specific learning pods.
Load More
Content-Specific Learning Pods
Smaller, content-specific groups where participants make meaning through discussion and artifact-sharing in an atmosphere of community-building.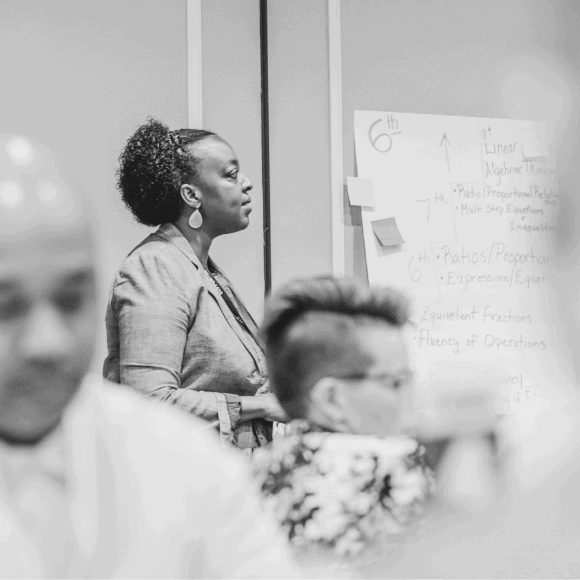 Optional Office Hours
Virtual office hours and coaching opportunities. Participants can schedule time with a Leading Educators coach either individually or with a team to support implementation and goal-setting.
Stories from Grand Rapids
Since 2016, we've supported hundreds of Grand Rapids-area educators to grow in their understanding of instructional equity and content knowledge. Here are a few snapshots of how that work has evolved.
Take the Next Step
Who is it for?
Any Kent ISD educators who are ready to harness their passion for educational opportunity and grow as leaders are encouraged to apply to be an Equity Fellow. There is space for 90 educators in the program. Of those 90, there are 30 spots available in each of the three content pathways: Math, K-2 ELA, and 3-12 ELA. Read on for more information on the pathways.
When does the program take place?
The program will run throughout the 2021-22 school year, from June 2021 – May 2022, and will provide teachers with a minimum of 30 SCECH-qualified hours. The learning takes place outside of the school day to ensure access to all educators. Click here to view a calendar of events.
Is it free?
There is no cost associated with applying for or participating in the fellowship. The fellowship is funded by the Educational Network of Greater Grand Rapids.
How do I apply?
Applications are now closed for this year. Applications will reopen in spring 2022 for the next class of Equity Fellows, so stay tuned.
Apply
Stay in the know
Get timely insights direct to your inbox. Sign up for the latest news, tips, and opportunities from Leading Educators.