Donate
Equity in Literacy Fellowship
Empower Greatness
Our West Michigan students–diverse in background, language, and identity–reflect our future.
Our schools should give them daily opportunities to build on their strengths and grow into their fullest selves
. Right now, we have room to grow. True change doesn't happen overnight, and it doesn't happen alone.
We as educators can give all our students a fair chance by growing ourselves. That's where the
Equity in Literacy Fellowship
 can help.
About the Fellowship
Equity
shows up in the details of teaching and learning. So, we must develop our lenses around rigorous academics, well-being, anti-racism, and culture. We can do that
together
. 
The Equity in Literacy Fellowship from Leading Educators is a community of practice that supports teams of K-12 educators to harness their passion for educational opportunity, strengthen their practice, and create
empowering
learning spaces for all students.
Apply Now
Bridging Intent and Action
Teaching has the power to bring all students closer to the future they imagine for themselves
.
As our West Michigan community recovers from years of crisis, we're determined to offer teams of Kent ISD educators best-in-class professional learning designed to further true opportunity and real results
.
We're working to build a network of school and district-based teams who are ready to take their practice to the next level
.
We designed the Fellowship with a diverse group of local leaders to ensure it responds to what West Michigan students need most
.
Understand
how racial equity is tied to literacy instruction and learn ways to close the opportunity gaps in literacy proficiency.
Interrogate
racism, bias and other types of oppression embedded in traditional literacy approaches.
Teach
all K-2 students to read, inclusive of identity.
Provide
access to complex, grade-level text for all students in grade 3-12, inclusive of identity.
Hear from a Fellow
Lisa Britten shares how support from Leading Educators has pushed her team's awareness around equity in literacy and curriculum.
The Experience
Teams of Equity Fellows take part in a range of dynamic learning structures to support ongoing learning, collaborative practice, and contextualization.
Whole Group Learning & Practice Sharing
Three days of summer learning (two in June and one in August) focusing on both equity and content plus four Weekend Workshops; classroom visits, planning support, and feedback.
School Team Coaching
Opportunities to receive on-site support around the shared goals in your building.
Load More
Communities of Practice
Collaboration with educators across Kent County as well as purposeful, targeted collaboration within school teams.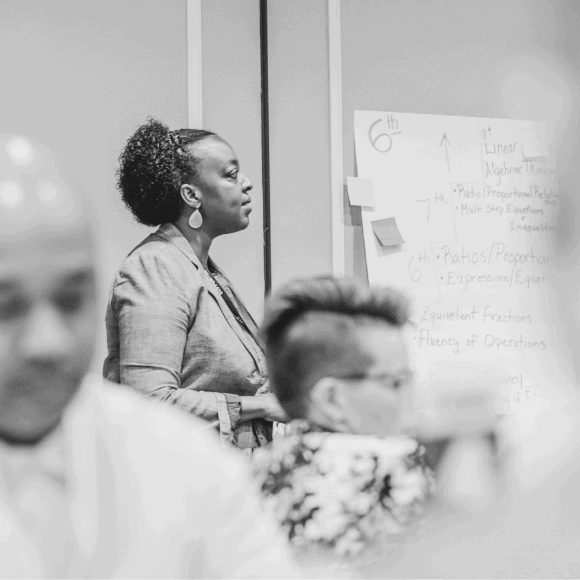 School and District Leader Support
Learning sessions designed to effectively bolster the knowledge and practice of teacher teams aligned to school priorities.
"One of my biggest concerns is holding a deficit mindset and assuming that certain students are not ready for challenging content. I have learned how to recognize brilliance in my students and allow for different entry points into the content."
2021-22 Fellow
Take the Next Step
Who is it for?
Teams of Kent ISD educators who are ready to harness their passion for educational opportunity and grow as leaders are encouraged to apply to be Equity Fellows. There is a limited number of teams that will be selected for this program. Selection will be determined through the application and interview process.
When does the program take place?
The program will run throughout the 2022-23 school year, from June 2022 – May 2023, and will provide teachers with a minimum of 40 SCECH-qualified hours. The learning takes place outside of the school day to ensure access to all educators. Access the calendar.
Is there a cost?
The Fellowship fee is $500 per person. Participants serving in historically underserved communities or in schools that are majority students of color are eligible for a discounted rate.
How do I apply?
Applications are now open through May 13. For more guidance about the application process, please review this handout.
Team interviews will be conducted via Zoom Meeting from May 13 to May 19.

All letters of acceptance will be delivered by May 22.
need more information?
Read through the materials from our recent open house below. For additional questions, please email Mary Kay Murphy at [email protected]
Apply Now
Know Someone Who Should Apply?
Spread the word! Click the button below to download a one-page document that outlines the vision for the program, what the experience is like, and how interested educators can apply.
Download a Handout
Stories from Grand Rapids
Since 2016, we've supported hundreds of Grand Rapids-area educators to grow in their understanding of instructional equity and content knowledge. Here are a few snapshots of how that work has evolved.
Stay in the know
Get timely insights direct to your inbox. Sign up for the latest news, tips, and opportunities from Leading Educators.